II Boondi (Batter Drops) II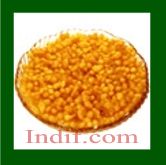 Ingredients:
2 cups gram flour (besan)

11/4th cup water

oil for deep-frying
Preparation:
Gradually mix the water into the flour to make a smooth batter.
Whisk well and leave for 10 minutes.
Heat the oil in a heavy-bottomed pan. using perforated spoon with round holes, pour the batter into the oil, shaking the spoon so that the batter drops fall through in pieces.
Use a little of batter at a time.
Use a clean, perforated spoon to turn the bondi and to take them from the oil.
Drain the bondi on absorbent kitchen paper and store in an airtight container for future use.
Keeps best for about a month.

Copyright © 2005-2015 INDIF.COM All rights reserved throughout the World
Any unauthorized duplication of this site is strictly
prohibited and liable to prosecution.
Site maintained and designed by Indif Technologies Inc.
This site is best viewed in Internet Explorer