Devotional
Featured Article
---
In Spotlight
---
Latest Deals
---
Shop Indif
| | |
| --- | --- |
| This Month | Featured |
Apr 02: Mahavir Jayanti

Apr 03: Satya Vrat, Good Friday

Apr 04: Poornima, Hanuman Jayanti

Apr 05: Easter Sunday

Apr 13: Baisakhi

Apr 14: Ambedkar Jayanti

Apr 20: Shivaji Jayanti

More...
Vrat Kathas

(

व्रत कथाऐं

)

Aartis

(

आरतियाँ)

Fasts most commonly known as Upvaas or Vrat are the days when devotees refrain themselves from food or water. We here bring u the kathas(stories) related to most popular fasts among Hindus.
Aartis are the verses or sonnets (poetic or lyrical), in the introductory or in the form of praise of a God. In this section we bring a collection of aartis (devotional songs) for various Indian gods and goddesses.
Mantras & Shlokas

Chalisas

(

चालीसा

)
"Mantras" derived from the Sanskrit 'man', meaning 'to think'. Mantra literally means 'instrument of thought'. Mantras are hymns, which are believed to benefit that chants them.
Chalisa means "forty verse" prayers . Verses that praise and plead with devotion. Look for a huge collection of chalisas like Ganesh Chalisa, Hanuman Chalisa, Durga Chalisa and more....
Bhajans

(

भजन

)

Marathi Prayers

A bhajan or kirtan is a Hindu devotional Song. Music to human ears is heavenly. And if it's purely devotional, it's truly divine. Bhajans are deeply rooted in the Indian tradition. Bhajans are simple songs in soulful language expressing the many-splendor emotions of love for God.
Marathi is an Indo-Aryan language spoken by the Marathi people of western India (Maharashtrians). It serves as the official language of the state of Maharashtra

.

We here present a collection of Hindu prayers in Marathi language like Marathi Stotras, Marathi Aartis and Marathi Kathas.

Pilgrimage Tours of India

Hindu Temples

In this Section we bring the most Comprehensive listing of Mandirs, Hindu temples, Indian places of worship and religious centers serving Indians and Indians abroad in USA, Canada, Australia, UK, Singapore and from many other countries of the world.
---
Tuesday, July 28, 2015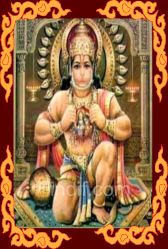 Picture of the Tuesday
---