AUM BHOOR BHUWAH SWAHA,
TAT SAVITUR VARENYAM
BHARGO DEVASAYA DHEEMAHI
DHIYO YO NAHA PRACHODAYAT.
Meaning of Gayatri Mantra: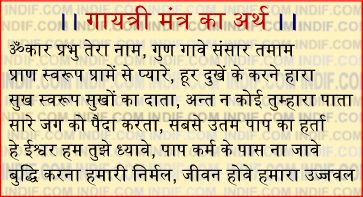 Oh God, Thou Art the Giver of Life,
Remover of Pain and Sorrow,
The Bestower of Happiness,
Oh! Creator of the Universe
May We Receive
Thy Supreme Sin-destroying Light
May Thou Guide Our Intellect
In the Right Direction.
Word to Word Meaning of Gayatri Mantra:
| | |
| --- | --- |
| Aum | Almighty God |
| Bhoor | Embodiment of vital or spiritual energy |
| Bhuwah | Destroyer of suffering |
| Swah | Embodiment of Happiness |
| Tat | That (Indicating God) |
| Savitur | Bright, Luminous, like Sun |
| Varenyam | Supreme, Best |
| Bhargo | Destroyer of Sins |
| Devasaya | Divine |
| Dheemahi | May receive |
| Dheeyo | Intellect |
| Yo | Who |
| Nah | Our |
| Prachodayat | May inspire |