Hindi Tongue Twisters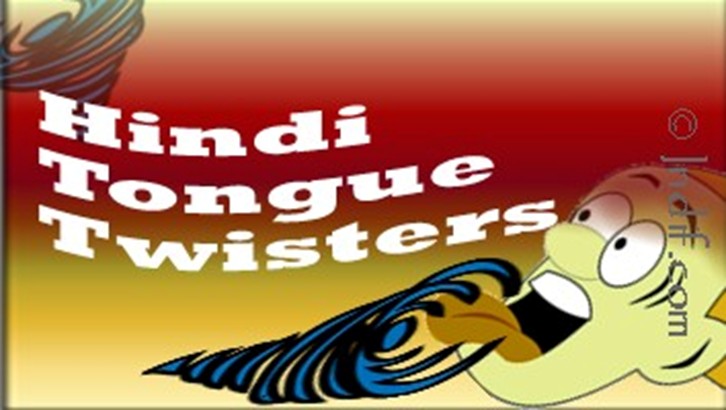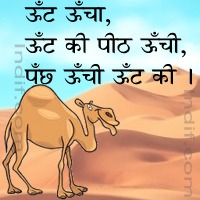 uth uncha
uth uncha,
uth ki pheet unchi,
phoonch uth ki unchi

Meaning : There is a tall camel, the tail of the camel is high, more than the tail, the back of the camel is higher.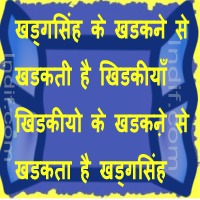 Khadak Singh
Khadak Singh ke khadakane se
khadakati hain khidkiyan,
khidkiyon ke khadakane se
khadakata hai Khadak Singh.
Meaning : When Khadak Singh shakes, the windows shake; when the windows shake, Khadak Singh shakes.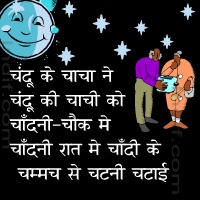 Chandu Ke Chacha
Chandu ke chacha ne
chandu ki chachi ko
chandni-chowk mein
chandani raat mein
chaandi ki chammach se
chatni chactaee.
Meaning :
Chandus' uncle asked Chandus' aunt to taste a relish / sauce with the help of a silver spoon in full moon night at Chandani Chowk (A place in New Delhi).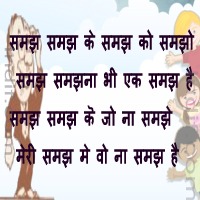 Samajh Samajh
Samajh samajh ke samajh ko samjho
samajh samajhna bhi ek samajh hai
samajh samajh ke jo na samjhe
meri samajh me woh na samajh hai
chatni chactaee.
Meaning :
Understand wisdom by wisdom and care. Understanding wisdom by being wise is true wisdom. One who does not understand wisdom even after understanding it, in my understanding he is unwise.
Kaccha Papad
kaccha papad,
pakka papad..

Meaning : Uncooked lentil wafer, cooked lentil wafer.