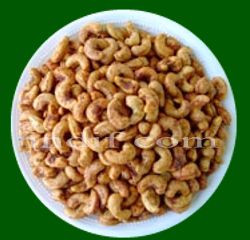 Ingredients: (Makes 2 cups)
2cups of the any of the following 3 or 4 nuts : Whole cashew nuts or halved cashew nuts, whole almonds (with skin), whole pistachios (with skins), whole or halved peanuts, whole brazil nuts.
1/2-1/4 tsp. salt to taste
Preparation:
Heat the oil to a depth of 1-inch in a heavy frying pan over moderately low heat.
Add the nuts and fry stirring often, for 10-12 minutes or until golden brown.
Remove and drain in a strainer resting over a pan, blot off the excess oil by transferring them on a paper towel.
While still warm toss in the salt and mix well.