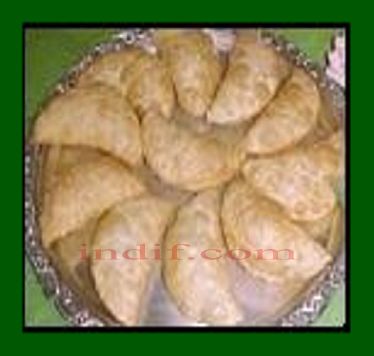 Ingredients:
For the Cover :
500gms. Maida (All purpose flour)

6tbsp. Oil / Ghee (melted)
For the Filling :
500-600gms Khoya

1/2 tsp. green Cardamom Powder

25gms. chopped almonda

25 gms. Raisins (Kishmish)

25gms. dried coconut (shredded)

350gms sugar or to taste (powdered)
Preparation:
Sieve the flour. Mix the six tablespoons of oil with the maida. Using fingers, mix well so that the mixture takes the form of breadcrumbs and binds to a certain extent. Now add some water and knead lightly. Keep adding water as required and knead into a soft but tight dough. Set aside and cover with a damp cloth.
Now Mash the khoya and fry it in a kadhai / deep pan till light brown in color Add sugar and cardamom powder into the khoya and mix well.
Add almonds, cashews, coconut and raisins. Fry for 2 minutes and remove from the heat. Allow it to cool.
Divide the dough into small balls and roll each ball into a small round of 4 " diameter.
Fill half the round with the khoya mixture, fold it and seal the round, twisting the edges inwards. Take care that the filling does not ooze out. Prepare all the gujiyas and spread on a cloth.
Heat ghee in a kadhai and deep fry the gujiyas in batches on a medium flame. When golden brown in colour, drain and remove. Store for use in an airtight glass jar.
Tip : Gujiya moulds can also be used. (They are easily available in any Indian store or market). For using moulds, place the rolled dough ball in a greased gujiya mould and fill a tbsp. of filling mixture on one side.Moisten the edges of the round and fold one side of the mould over the other. Remove the excess edges and reuse